Welcome to Panquility!
Panquility is a professional steel pan ensemble established in 2007. We have shared the love of steel pan music throughout the Washington D.C. Metropolitan area for over 15 years. Panquility is widely recognized as being one of the top steel bands in the area, as well as an important cultural institution dedicated to preserving and promoting Caribbean music and culture.
Panquility prides itself on music representative from numerous musical genres. Genres include soca, calypso, reggae, latin, jazz, pop rock, and rhythm and blues. Whether recent or classic songs, we perform them all for a variety of official and social occasions.
Using live music makes your occasion special; enjoyed by everyone and remembered by all. Live music is a strong attention-getting and crowd-pleasing method of increasing public relations and bolstering morale. We would like to suggest the use of live music at your next function.
Here is a partial list of the many different events where Panquility can be useful to you:
Weddings, Anniversaries, Reunions
Parties, Banquets, Fund Raisers
Festivals, Parades, Community Events
Grand Openings, Restaurant Promotions
Holiday Occasions, Graduations, and much more!
This page was last updated: Dec 23, 2022
Home
Hear Us-See Us
FAQ
Contact Us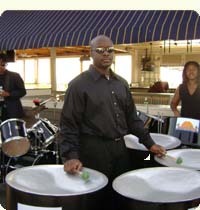 Upcoming Events
Contact Us
---
02/18/2023 - Private Event {Wedding} (Lanham MD)


03/04/2023 - Private Event {Wedding} (Washington DC)


05/06/2023 - 2023 City of College Park Parade (College Park MD) (Parade begins at 10AM starts at the he Hollywood Plaza shopping center and continue down Rhode Island Avenue for 1 mile; reaching Duvall Field at 9200 Rhode Island Ave)


05/20/2023 - 2023 Southwest Duck Pond Party (500 I Street Southwest Washington DC) {2:00pm-5:00pm}


05/27/2023 - 2023 Bowie MD Memorial Day Parade (Bowie MD) (Parade begins at 11AM starts at the Bowie High School Annex (3021 Belair Drive) and will go towards Annapolis Road turning right onto Sussex Lane; and make another right onto Stonybrook Drive ; ending with a left turn on Sage Lane)


06/03/2023 - 12th Annual Caribbean Heritage Festival in Bladensburg (Bladensburg MD) {4:00pm-5:00pm}


06/17/2023 - 2023 Annapolis MD Juneteenth Parade (Annapolis MD) {begins at NOON starts at Annapolis city docks - L - Randall Street - R - Main Street - R - Church Circle - R - West Street - L - Amos Garrett Blvd - R - Constitution Avenue - End at Amos Garrett St (Maryland Hall) }


06/24/2023 - Caribbean American Heritage Celebration (Wheaton MD) {4:00pm-5:00pm}


07/04/2023 - 2023 Takoma Park Maryland Independence Day Celebration Parade (Takoma Park MD) {10AM-NOON}


08/05/2023 - 2023 Caribbean Wine Festival (Hustle VA)


08/19/2023 - Private Event {Wedding} (Washington DC)


08/26/2023 - Private Event {Wedding} (Bowie MD)


08/27/2023 - Carnival Nations' African + Caribbean Music & Arts Festival (Silver Spring MD) {5:00pm-6:00pm}


09/02/2023 - Private Event {Wedding} (Washington DC)


10/07/2023 - 2023 Old Bowie Arts and Heritage Festival (Bowie MD) {10AM-NOON}


10/14/2023 - 2023 Kingman Island Friends & Family Day (575 Oklahoma Avenue Northeast Washington DC) {10:00am-2:00pm}


11/04/2023 - Private Event {Party} (Woodlawn MD)


12/09/2023 - Christmas Concert of Steel Pan and Song (Beltsville MD) {4PM-6PM}


---